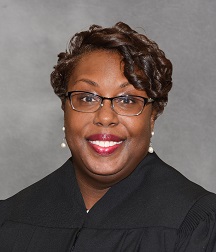 Honorable Nicole L. Sanders
Hamilton County Courthouse
1000 Main Street
Room 500
Cincinnati, Ohio 45202
Doris Vincent, Bailiff
Phone Number: 513-946-5770
Isaiah Lumpkins, Director
Phone Number: 513-946-5773
Alexis Deatherage, Certification Coordinator
Phone Number: 513-946-5777
Stephanie Jones, Specialized Docket Assistant
Phone Number: 513-946-5775
Hallie Wilt, Client Case Manager
Phone Number: 513-946-5780
Abigail Brodie, Specialized Docket Adm.
Phone Number: 513-946-5776
Fax Number: 513-946-5779
COURTROOM PROCEDURES
CASE MANAGEMENT
Contact the Bailiff for more information.
MOTION PRACTICE
Motion Practice will be held every Friday.  Motions should be submitted to the judge at least 2 weeks before oral arguments.
PRE-TRIAL CONFERENCE
Pre-trial Conferences are held Monday - Friday between 8 am and 9 am. Please be on-time.
COURTROOM ETIQUETTE
The following are expected at all times:
Attorneys are expected to be prompt, professional, courteous and respectful at all times.
Counsel is expected to behave professionally and to act civilized toward each other, parties, witnesses and courtroom staff.
Attorneys should stand when addressing the court, questioning witnesses and when objecting.
Counsel must ask permission before approaching a witness or the bench.
If a case is in progress, attorneys should quietly wait until the bailiff becomes available.
If an attorney is going to be late, please contact the court bailiff as soon as possible.
[Zoom Information at the Bottom of the Page]:
Room 500 Schedule
Monday - Thursday
8am - 9am      Pre-trial conferences with Public Defenders, Attorneys, Prosecutors, and Probation Officers
9am - noon    Court in session - regular Drug Court docket
*** Expungements - If there is an objection from the State, the expungement will be continued and notice provided to the party for appearance.
Zoom: The Court's Zoom session can be accessed at: https://us02web.zoom.us/j/2178879569