Bradley J. Seitz
Chief Deputy Jury Commissioner
Jury Commission Office
Hamilton County Courthouse
1000 Main Street
Room 455
Phone: 513-946-5880
Fax: 513-946-5885
**Now accepting jury summons responses and excuse/postponement requests by email.  Email: juryresponse@cms.hamilton-co.org  Responses must be scanned in as an attachment.  Do NOT respond in the body of an email.**
Attention: **Now accepting jury summons responses and excuse/postponement requests by email.  Email: juryresponse@cms.hamilton-co.org.  Responses must be scanned in as an attachment.  Do NOT respond in the body of an email.**
Welcome to jury service:
The performance of jury service is the fulfillment of a civil and moral obligation.  Conscientious service brings its own reward in the satisfaction of an important task well done.  There is no more valuable work that a citizen can perform in support of the judicial system of our government than the full and honest discharge of jury duty.
Our staff is committed to making your jury experience a positive one. This website is intended to answer many of your questions without the need for a phone call or email. However, if you have additional questions or concerns, please do not hesitate to contact us by phone at 513-946-5879 (JURY) or via email by clicking the link to the webmaster below.  **Now accepting jury summons responses and excuse/postponement requests by email.  Email: juryresponse@cms.hamilton-co.org  Responses must be scanned in as an attachment.  Do NOT respond in the body of an email.**
For the most up to date reporting instructions click here.
To view the Juror Orientation video click here.

"The American system of trial by jury is unique.  No other nation relies so heavily on ordinary citizens to make its most important decisions about law, business practice and personal liberty - even death.  Ideally, Americans take their participation seriously lest they someday stand before their peers seeking justice."
- Stephen J. Adler, journalist and author

Scam Warning:
To all potential jurors, please be aware of Jury Duty scams.  The links below detail some of the potential scams that are occurring.  In order to be called for jury duty in Hamilton County you must first receive a summons in the mail.  If you have received a phone call, email, visit or any other suspicious correspondence from anyone claiming to represent the Jury Commission Office, Sheriff's Office, Clerk of Court or any other court personnel, please contact us at 513-946-5879 to verify any potential jury duty obligations.  Thank You!
Alert:  There is a more recent version of the jury scam taking place in which the caller offers you the last 4 digits of your social security number.  Please note that the Jury Commission Office will never ask you for, collect, or use your social security number.  The call you received is a scam.
Jury Scam News Story - Channel 12
Jury Scam News Story - Channel 9
Note on Security:
Deputy Sheriff's will no longer be issuing claim tickets for items deemed by them to be dangerous items.  This list includes, but is not limited to: pocket knives, scissors, mace, or any other weapon.  If you feel you have a dangerous item in your possession you will need to leave it in your car.  The Sheriff will not let you in the building with these items.***
The Juror's Creed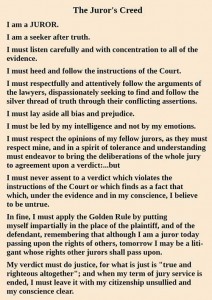 Disclaimer
The purpose of this page is to familiarize you with some of the facets of jury service and it should not be used in your jury room deliberations.  It is not intended to advise you about the law.  This is the judge's responsibility and the law can be different in each case.