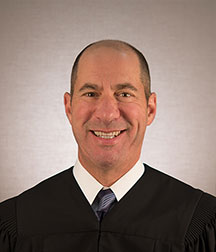 Honorable Brad Greenberg
Hamilton County Courthouse
1000 Main Street
Room 164
Cincinnati, Ohio 45202
Julie McCoy, Bailiff
Phone Number: 513-946-5215
Fax: 513-946-5171
About Judge Greenberg
Judge Brad Greenberg has served in Municipal Court since 2006. Greenberg also presides over Hamilton County's Municipal Veteran's Court. Veteran's Treatment Court is a judge-supervised treatment program whose goal is to help United States Veterans address the issues that led to contact with the criminal justice system.
Judge Greenberg represents District 5 which includes Sycamore Township, Symmes Township, Loveland, Blue Ash, Montgomery, Sharonville, Madeira, Indian Hill, Reading, Deer Park, Springdale, Glendale, Evendale and Terrace Park.
Prior to becoming a Judge, Greenberg spent 12 years as an assistant Hamilton County prosecutor.  He prosecuted over 1000 felony cases and tried over 75 jury trials including numerous homicide cases.  In 2004, Greenberg was named Chief of the Grand Jury Division.  He was also the Chief Prosecutor for Child Pornography, a member of the Riot Prosecution Task Force and an instructor at the Cincinnati Police Academy.
In 2005, Greenberg left the Prosecutor's Office to become the Administrator of the Hamilton County Clerk of Courts where he managed a staff of 320 employees.  Greenberg was also the Prosecutor for the City of Madeira for eight years.
Judge Greenberg is a Hamilton County native. He graduated from Wyoming High School, The Ohio State University and the University of Virginia School of Law.
Greenberg served on Loveland City Council for nine years including two years as Mayor and two years as Vice-Mayor. He and his family live in Symmes Township.