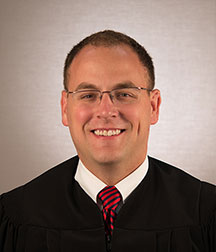 Honorable Josh Berkowitz
Hamilton County Courthouse
1000 Main Street
Room 154
Cincinnati, Ohio 45202
Gary Rutz, Bailiff
Phone Number: 513-946-5149
Fax: 513-946-5151
About Judge Berkowitz
Judge Josh Berkowitz serves on the Hamilton County Municipal Court, 4th District. Judge Berkowitz hears cases from all over Hamilton County in one of Ohio's busiest courts. These include criminal, civil, & traffic cases.
Before taking the bench, Judge Berkowitz served as an Assistant Hamilton County Prosecutor in the felony/trial division.  Judge Berkowitz also served as Law Director for the City of Norwood, where he was the city's Chief Legal Officer.
Judge Josh Berkowitz was born & raised in Cincinnati and is a graduate of Elder High School, The Ohio State University, & Capital University Law School.