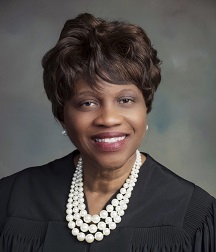 Honorable Melba D. Marsh
Hamilton County Courthouse
1000 Main Street
Room 310
Cincinnati, Ohio 45202
John P. Henges, Bailiff
Phone Number: 513-946-5866
Thomas Price, Law Clerk
Phone Number: 513-946-5867
Fax Number: 513-946-5868
Courtroom Procedures
Motion Practice
Contact the law clerk after the civil motion is filed and schedule a date for hearing with opposing counsel. Civil motions are generally scheduled in the afternoon, but are subject to cancellation or postponement if a trial is in progress. Occasionally, days are set aside for hearing civil motions. On those days, motions may be scheduled in the morning also. Criminal motions are scheduled in the mornings. Contact the bailiff to set the date and time.
Settlement
Regarding civil matters, I encourage attorneys to reach resolutions on their own, but am available if both parties believe that my intervention would be productive. Parties should be available at settlement conferences to make the final decisions. I encourage both the arbitration and mediation process.
Calendaring/Continuances
For civil matters, contact opposing counsel initially and provide the law clerk with proposed date. For criminal matters, contact the room prosecutor initially and then the bailiff. Counsel must provide valid and necessary reason for continuances.
Pretrial
This court uses a standard case management form. The form provides attorneys with a discovery deadline, deadlines for identification of experts, dispositive motion deadlines, and pretrial and trial dates. At pretrial, attorneys should give the court a hard copy of the pretrial statement, jury instructions, and an electronic copy in Word or WordPerfect of these documents.
Trial
As mentioned above, a pretrial statement should be delivered on the pretrial date. Specific requirements for jury trials vary on a case-by-case basis. I ask approximately 5 percent of the questions in voir dire. Attorneys should call in advance of their trial date if they have specific concerns. Jurors are not permitted to take notes during trial; they are expected to actively listen to the presentations made by counsel and rely on their memories. Attorneys are welcome to talk to jurors at the completion of the case.
Courtroom Etiquette
Attorneys may stand wherever is comfortable for them. Attorneys may approach witnesses after asking the court's permission to do so. When attorneys arrive in the courtroom, they should report to the law clerk for civil matters. For criminal matters, contact the room prosecutor before reporting to the bailiff. If a case is in progress, please wait to report until an appropriate time.
Expectations/Comments
Attorneys are expected to be courteous and professional at all times.