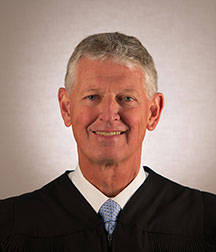 Honorable Patrick T. Dinkelacker
Hamilton County Courthouse
1000 Main Street
Room 495
Cincinnati, Ohio 45202
Christopher Collini, Bailiff
Phone Number: 513-946-5851
Kari Cittadino, Constable
Phone Number: 513-946-5850
Fax Number: 513-946-5854
Forms:
Entry Plea of Guilty Agreed Sentence
Entry Plea of No Contest Agreed Sentence
Entry Withdrawing Plea-Guilty F1F2 (Reagan Tookes)
Entry Withdrawing Plea-Not Guilty to Guilty (Misd.)DNA - Copy
COURTROOM PROCEDURES
GENERAL
MOTION FILING
After filing the motion, take a copy of the motion to the courtroom and meet with Chris or Kari to get a hearing date. All Civil Motions are heard on Tuesdays or Thursdays at 1:00 p.m. Any motion can be set for an oral argument. I try to rule on all motions within two (2) weeks of arguments.
SETTLEMENT
If asked, I will assist in settling both criminal and civil cases. During civil settlement conferences, I do request both parties and important participants be present.
CONTINUANCES
When a case is set for trial, I expect it to go on the date set. To obtain a continuance, please file an appropriate motion.
DISPOSITION SCHEDULING CONFERENCE
I do request Defendants be present for the Disposition Scheduling Conference.
CASE MANAGEMENT CONFERENCE
** ALL CASE MANAGEMENT CONFERENCES WILL BE HELD VIA TELEPHONE. PLEASE CONTACT OPPOSING COUNSEL PRIOR TO THE CMC AND INITIATE A CONFERENCE CALL -- THEN CALL THE COURT at 513-946-5850**
PRETRIAL
Pretrial statements are due two (2) weeks prior to the pretrial conference which is generally two (2) weeks before trial. Counsel should follow the format of the Local Rules. 
TRIAL
Proposed jury instructions should be filed and emailed to the constable two weeks before trial. Please send these in Word format for easy editing. Trial briefs are not required. If testimony is to be presented by videotape or deposition, objections should be presented at least one week before trial.
CIVIL JURY TRIAL
I do require attorneys to prepare proposed jury instructions and a trial brief two (2) weeks prior to trial.
COURTROOM ETIQUETTE
Counsel is expected to be professional, respectful, and courteous at all times. My staff and I will act in the same manner.
Counsel in criminal cases should check in with the bailiff (Chris Collini).
Counsel in civil cases should check in with the constable (Kari Cittadino).
EXPECTATIONS
As long as the rules are followed and courtesy is exercised, you will have a pleasant professional experience in my courtroom.
AVAILABLILTY
I will make myself available to counsel to help resolve any problems.
PERSONAL
My wife Kathy and I have been married for 42 years. We have four children and nine grandchildren.