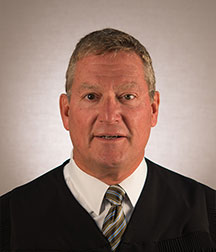 Honorable Robert P. Ruehlman
Hamilton County Courthouse
1000 Main Street
Room 300
Cincinnati, Ohio 45202
Laura Hayslip, Bailiff
Phone Number: 513-946-5851
Kari Cittadino, Constable
Phone Number: 513-946-5850
Fax Number: 513-946-5854
Courtroom Procedures
General
First of all, after you file a motion you must take a copy of that motion to my Courtroom and meet with Ms. Laura Hayslip. You should have already called opposing counsel and you should have a date or dates in mind for setting the motion. All motions are heard at 2:00 P.M., Mondays through Thursdays.
Settlement
I am very active in settling both the criminal and civil cases. Plea bargaining takes place in Chambers and so does civil settlement discussions. At settlement conferences on civil cases, I do require that the plaintiff and insurance companies be present.
During civil settlement conferences, I am actively involved and do offer opinions. I have had very good success in settling civil cases.
Calendaring, Continuances
I do not like continuances in either criminal or civil cases. During the case management conference, I require the attorneys to be there to set up discovery deadlines as well as dates for filing motions and a date for trial. I expect the attorneys to adhere to the scheduling order. Furthermore, there has to be a good reason for a continuance. The way to obtain a continuance is to file a motion. I set motions down for 2:00 P.M. hearings on Mondays through Thursdays.
Courtroom Etiquette
I tend to be pretty liberal in my treatment of lawyers. During trials there is a relaxed atmosphere. You can approach the bench at any time, you can use projectors, power point or blackboards. You can approach the jury box without asking permission and I use a hands-off policy allowing the attorneys to try their case. You do not have to feel embarrassed about coming into my Courtroom when a trial is in progress. I tend to be pretty low-key.
Pet Peeves/Expectations/Comments
The only time I get angry with attorneys during a trial is if they interrupt me or if they fail to follow my rulings or after a ruling, they continue to argue. As far as punctuality, I never get angry at attorneys for being late as long as they call the Courtroom and tell my staff that they will be late and also give a valid reason. I know attorneys are busy and I am not the only judge. Attorneys who are late should tell us where they are going to be and indicate a time when they are going to arrive. Do not just show up late without any explanation.
Concerning courtroom appearance, I never get concerned with what people wear in my Courtroom.
Pretrial
Concerning pretrial statements, refer to the attached copy of my pretrial order. At the case management conference, I require all the attorneys to be present so that we can set up the pretrial dates: dates for naming experts, dates for completing discovery, dates for filing motions, dates when a motion will be heard, trial dates as well as a pretrial dates. I do not have a pretrial conference in every case. Most cases are pretty simple, however, I do have formal pretrial in more complicated cases.
In criminal cases, I require the defense and prosecuting attorneys, as well as the defendant, to attend the dispositional scheduling conference. At that time I set the case for trial. If the defendant wants to plead the case out early, that is fine. But I always work towards a trial date. If they want to plead the case out early, the attorneys are to call Laura Hayslip, who is the bailiff, and he will set up a date, usually the next day, for a plea.
In civil cases, I require the attorneys (refer to the pretrial order below) to prepare jury instructions and present these jury instructions to the Court two (2) weeks before trial. I also require a trial brief in civil cases and the attorneys must file it two (2) weeks before trial. (See the form below explaining what is required in the trial brief).
IT IS ORDERED BY THE COURT as follows:
1. That this cause is assigned for trial before a jury in Courtroom 9, on ___ at ___ _.m.
2. That counsel for the respective parties furnish the Court with a trial brief 14 days prior to the date assigned for trial of this case. Trial briefs are due on ___ at ___ _.m. These briefs shall contain the following material:
a. A succinct statement of the kind of action;
b. A clear statement of the issues involved;
c. A summary of the factual situation in regard to each claim or defense;
d. An itemized list of the claimed special damages;
e. A statement of the principles of law involved in the case supported by the citation of appropriate authority;
f. Complete jury instructions;
g. A list of all exhibits;
h. A list of all witnesses and a summary of their testimony.
3. That all documents and exhibits must be marked for identification purposes and shared with opposing counsel 14 days prior to trial. Failure to do so may result in said documents and exhibits not being admitted into evidence.
4. That plaintiff must disclose the names of all expert witnesses to defense counsel by ___.
5. That plaintiff must give to defense counsel a written summary of all plaintiffs expert opinions by ___.
6. If plaintiff fails to comply with orders 4 or 5, plaintiffs experts will be prevented from testifying.
7. That defendant must disclose the names of all expert witnesses to plaintiffs counsel by ___.
8. That defendant must give to plaintiffs counsel a written summary of all defendants expert opinions by ___.
9. If defendant fails to comply with orders 7 or 8, defendants experts will be prevented from testifying.
10. ALL DISCOVERY will be completed by ___.
11. ALL PRETRIAL MOTIONS must be filed by ___.
12. ALL PRETRIAL MOTIONS will be heard on ___.
Concerning cases that I send to visiting judges. I try not to use visiting judges. I attempt to try all my cases and the only time I will send a case to a visiting judge is if I am in progress on a case and I know the case has to be tried and the attorneys want to go to a visiting judge. If I cant try a case, I will try to continue it and then give it first priority so that it can be tried a few weeks later.
I believe that the arbitration and mediation process should be voluntarily. I never force a party in alternate dispute resolution. I believe that the best cases for arbitration are those where liability is not in dispute and causation is the only issue.
Trial
Concerning the time allocated to voir dire; I never get involved conducting voir dire because I know attorneys have certain styles and I never cut off anybody's voir dire. Moreover, attorneys can take as much time as they want on voir dire. I have no time limits on voir dire and I hardly ever get involved in voir dire except in situations where a juror indicates that he or she cannot be fair or impartial. At that time, I will ask some questions concerning the challenge for cause in order to make a decision on the challenge.
Concerning opening statements, I encourage lawyers to use demonstrative evidence including but not limited to charts, power point, slides and photographs.
As far as note taking by jurors is concerned, I do not allow jurors to take notes because most cases are not that complicated. I want the jurors to listen to the trial and I believe that when they are taking notes, they miss things.
Finally, I encourage attorneys to talk to jurors after the case is completed.
Discovery
I set all the time limits up at the case management conference and I expect the time limits to be followed.
Personal
I am an avid swimmer and dive master. I enjoy hiking and reading. I have seven children and 13 grandchildren.