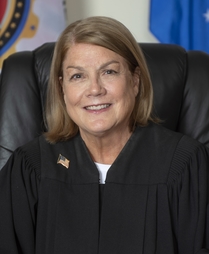 Honorable Ethna M. Cooper
Hamilton County Courthouse
1000 Main Street
Room 540
Cincinnati, Ohio 45202
Andy Poli, Bailiff
Phone Number: 513-946-5860
Meghan-Anne Ryan, Law Clerk
Phone Number: 513-946-5862
Fax Number: 513-946-5864
** ALL CASE MANAGEMENT CONFERENCES WILL BE HELD VIA TELEPHONE. PLEASE CONTACT OPPOSING COUNSEL PRIOR TO THE CMC AND INITIATE A CONFERENCE CALL -- THEN CALL THE COURT **
Courtroom Procedures
Motion Practice
Motions filed in civil cases are generally taken under submission without oral argument after briefing is complete.  Oral argument in a civil case is set only upon request.  Contact opposing counsel prior to contacting the law clerk to set any civil motion for oral argument.  Motions and evidentiary hearings in civil cases are typically set in the afternoon.  For motions to withdraw as counsel in civil cases, follow Local Rule 10(D) and call the law clerk to schedule a hearing.
Hearings on motions in criminal cases are typically set in the morning.  Please contact the bailiff to set any criminal motion.
A courtesy copy of any motion and briefs filed in response must be provided to the courtroom.
Settlement
I encourage settlement discussions in civil cases and I am happy to assist parties and their counsel in that regard. If a matter is proceeding to trial, I request that counsel and their parties be present at pretrial with settlement authority. In criminal cases I will discuss a potential plea-bargain if requested by both attorneys.
Calendaring, Continuances
Scheduling in criminal cases is done by the bailiff.  Scheduling in civil cases is done by the law clerk.  Please contact the room prosecutor in criminal cases and all other counsel in civil cases prior to contacting courtroom staff to discuss calendaring or continuing any dates set by the Court.  Counsel must have a valid reason for requesting any continuance.  Trial dates are continued only in exceptional circumstances and only by the Court.
Pretrial
In most civil cases, a formal pretrial conference is typically scheduled three weeks prior to trial.  Each party must file a pretrial statement and provide the courtroom with a courtesy copy at least two days prior to the pretrial conference.  All critical dates, including trial and pretrial dates, are scheduled at the Case Management Conference and incorporated into a Case Management Order.  The expected content of the pretrial statement is set forth in the Case Management Order.  Because settlement is discussed at the pretrial, counsel must be present with their clients or with settlement authority.  Contact the law clerk to discuss any requests to appear by telephone.
Trial
Joint jury instructions in civil cases are required to be submitted in writing and electronically in Word at least three business days before trial. Trial briefs may be requested. If there is a particular legal or evidentiary issue that attorneys wish to bring to the Court's attention, a short memorandum with pertinent cases attached is appreciated.
The Court and counsel conduct voir dire. There is no time limit. Jurors are not permitted to take notes or ask questions during trial. Post-verdict, attorneys are permitted to talk to jurors with the jurors' consent.
Discovery
The Court and the parties jointly set the discovery cut-off date as part of the case management conference and scheduling order.
Courtroom Etiquette
Attorneys should stand when addressing the Court or examining a witness. They may stand wherever they are comfortable. An attorney should request permission to approach a witness. In criminal cases, the attorney should report to the room prosecutor and the bailiff. In civil cases, the attorney should report to the constable.
Expectations/Comments
Punctuality, professionalism and civility are requested and greatly appreciated in the Courtroom. Generally, attorneys are expected to attend all court settings in person.  Telephone appearances are permitted only with prior consent of the Court and are handled on a case-by-case basis.  Contact the law clerk with questions about this policy with regard to civil cases and the bailiff with regard to criminal cases.