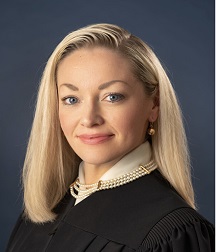 Elizabeth A. Callan
Hamilton County Courthouse
1000 Main Street
Room 380
Cincinnati, Ohio 45202
Kristie Cornelius, Bailiff
Phone Number: 513-946-5117
Anthony Kremer, Law Clerk
Phone Number: 513-946-5118
Fax Number: 513-946-5119
Courtroom Procedures
Motion Practice
A courtesy file-stamped copy of all motions, along with a Word-formatted proposed Entry, must be emailed to akremer@cms.hamilton-co.org with the case caption in the email's subject line.  The Court will set hearings for motions on a case-by-case basis.
Settlement
The Court strongly encourages efforts at early mediation and will become involved at the request of the parties. The Court of Common Pleas mediation services are available to all parties.  The parties should be prepared to discuss that status of settlement efforts in all interactions with the Court.  In criminal cases I will discuss a potential plea-bargain if requested by both attorneys.
Calendaring, Continuances
In civil cases, a case scheduling order is established at the case management conference with the law clerk. If you wish to appear via telephone for a case management conference, you must make a request at least two days in advance; otherwise you are expected to appear in person.
When proposing new dates/continuances in civil matters, contact opposing counsel initially and provide the law clerk with any proposed new dates. For criminal matters, contact the room prosecutor initially and then the bailiff. Counsel must provide valid and necessary reason for continuances.
Discovery
Discovery time limits are set at the initial case management conference. The Court expects opposing parties to be courteous and respectful regarding discovery. If a discovery dispute arises, parties must attempt to work them out before seeking Court involvement.
Pretrial
Pretrial statements are due two weeks prior to the pretrial conference.
Trial
The Court prepares criminal jury instructions using Ohio Jury Instructions. For civil cases, attorneys are required to prepare joint-proposed jury instructions. Counsel is also expected to meet, mark and stipulate to the admissibility of all trial exhibits prior to trial.  Attorneys are expected to address any anticipated evidentiary issues prior to trial through motions in limine. Trial briefs are required.
Courtroom Etiquette & Expectations
Counsel is expected to be professional, respectful, and courteous at all times. My staff and I will act in the same manner.  I also expect counsel to be on time. If counsel will be late, they are expected to call the bailiff regarding criminal cases and the law clerk regarding civil cases.